aka-aki
'New People Nearby' – With more than 700,000 users, aka-aki was one of Europe's most influential mobile social networks of its time.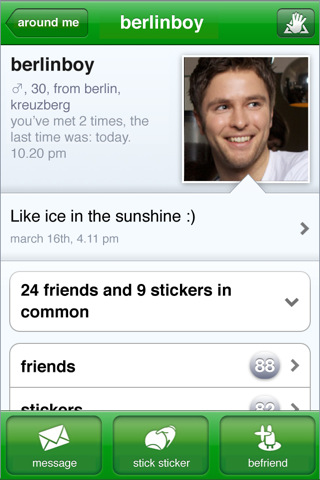 With more than 700,000 users, aka-aki was one of Europe's most influential mobile social networks of its time. In 2008, Apple's first iPhone had just been launched (and was ridiculed for its touchscreen). Data plans existed, but were eclusively used by nerds and people who wore a suit and owned a Blackberry.
aka-aki's focus was on meeting new people: It logged encountered members on-the-go, based on your location, so you could get in contact later – even when you missed to exchange contact data.
The app won the 13th Annual Webby Award in 2008, and the media raved about it. Le Monde, a french newspaper, dedicated a whole two-pager to it.
In 2008, aka-aki existed as J2ME app. J2ME was an arcane technology allowing you to install very minimal apps on your phone – typically less than 100 kilobytes big. Technically, the app worked very similar to today's Bluetooth contact tracing apps for Covid. But as a social network. You could even participate without installing an app at all: You just had to register your Bluetooth device ID, after which your phone was discoverable even when you had no data plan. This worked for phones that were no smartphones, as long as they had Bluetooth. If an internet-enabled device owned by somebody else discovered your non-smartphone in range, you simply got an SMS notification. All of this worked before the iPhone, and it was pretty fancy stuff at its time.
Notifying the iPhone's potential, aka-aki hired me to built an iPhone native app – based on GPS, as the iPhone did not yet support Bluetooth for apps. Later we grew to be a mobile dev team. I lead that team until 2011, when Europe's fast-growing, promising mobile advertising market got 'disrupted' into non-existence for a while: ringtone subscription scam (supported by phone carriers) and missing regulation caused a cost-per-click rise that wasn't affordable even for valuable brands. The mobile ad ecosystem became a trash fire for many years – no serious brands wanted to be associated with it. Diverging ideas of how to fix the situation inside the team posed additional difficulties, and a patent troll lawsuit finally nailed the startup's coffin.
I'm very thankful for this experience and the fun time though, as it was a chance to learn a lot – about tech, business, power, friendship, and life itself.
Media Quotes

Face to Facebook: aka-aki is on a mission to get social networkers onto the streets. — CNN.com
For the users, aka-aki is simple and intuitive. — Le Monde, France
It sounds futuristic. But it is here already! — BBC Radio 5, May 9th 2008, 6.55 PM
simply ingenious — BILD.de